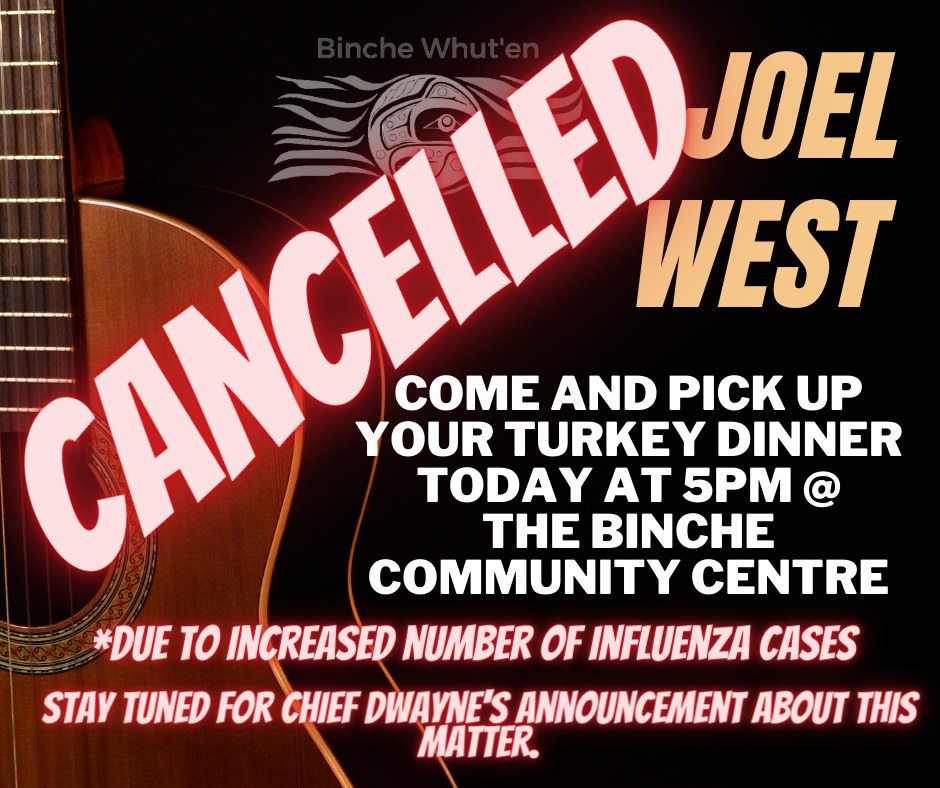 Community Announcement from Chief Dwayne Martin
December 15th, 2022
Binche Whut'en Community Members,
As a result of a recent spike in the number of Influenza cases, today's event for a Social Gathering for the Children and Families Jurisdiction has been cancelled. Tonight's Social Gathering was scheduled as an introduction to this exciting initiative that has been undertaken by our community to develop a Child and Families Federal Law to be enacted for the benefit of Binche Whut'en's Children & Families.
Under Binche's Governance Policies and Procedures, Section:2.8 (2) "Chief Councillor Roles and Responsibilities, I have the responsibility to "Make Decisions for the Council in times of emergency…".
Sadly, and after consultation with Binche's Health Director and the Community Health nurses, I have had to make the decision to cancel today's scheduled event. This decision is based on my commitment to ensure the Health and Safety of Binche Community Members. To ensure your safety, dinners for tonight's event will still be served in a "take out" style. For these dinners, please come to the Community Hall for pick-up.
Moving forward and taking into account the upcoming scheduled events, Binche's Health Department will keep us informed on the indicators and trends of the Influenza. Should it require additional cancellations, the Child and Family Law's "Community Engagements" scheduled for December 16th & 17 could fall to cancellations also. To date, they are still on track to take place as scheduled. It also recommended that we be mindful of social distancing, hand sanitizing and face masks (optional) for attending all events.
In closing, I remain hopeful that Binche's Christmas Dinner scheduled for Sunday 18th, 2022, in Prince George will still be a go. Please take good care and thank you for your patience as we continue gather information on your behalf.
Chief Dwayne Martin